Dramatic portrait lighting is making a comeback! We use soft boxes for most of our studio portraits, usually a large or medium Chimera with silver interior. For a more "fashiony" look, we use the white Mola Demi (the Mola is off-white) beauty dish, often with a white grid. That's as "hard" as we have been lighting portraits for a while with the exception of the Profoto ring flash. Soft boxes are very forgiving, and provide a very flattering light.
Lately we've been experimenting with hard light sources in the studio. For our own "fun" work and for clients who want more edgy head-shots. The images below were done for DJ Peter Pop. He performs at venues and events that go along with a more edgy look than he would use to attract weddings and social event clients.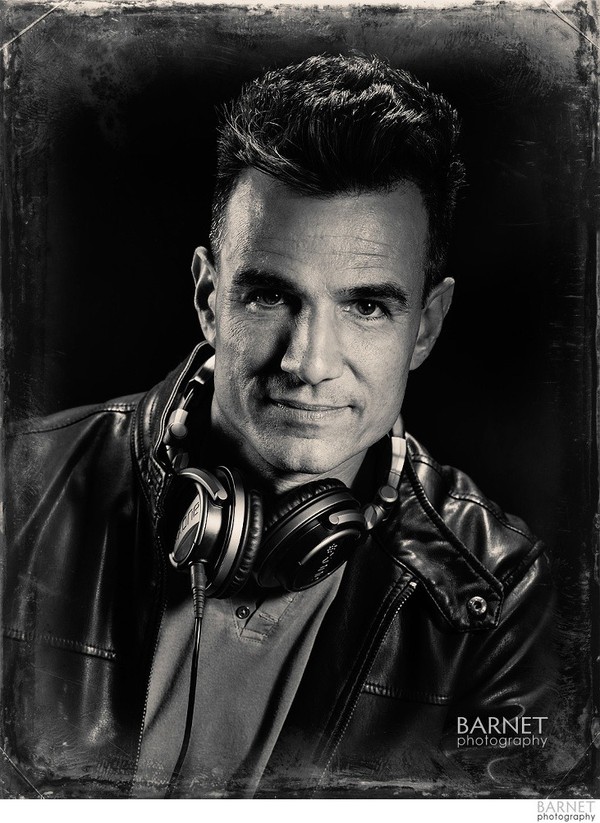 As you can see in the "behind the image" photo below, we used a 4 light set up here. The main light is a 500w Profoto D1 with a Magnum reflector (our new secret weapon) with a grid. The hair light (or "separation light" if your subject has no hair) is a Profoto B1 with a zoom reflector, also fitted with a grid, and the "kicker" opposite the main, slightly behind the subject is a Profoto B1 with a 1'x3′ strip box fitted with an egg crate. There is also a square silver reflector, and a larger silver reflector further away to kick back some of the main light, soften the transition and throw a little light on Peter's right eye. Finally, there is a Dynalite head with a snoot, off an 800w pack through a gobo putting light on the black paper background to make it look a little more interesting. There is a flag in front of the gobo light to keep the spill from hitting the subject. After retouching, the final image above was tweaked with Alien Skin Exposure #7's "Daguerreotype Damaged" so the effect of the gobo is almost invisible. It's much more noticeable in the less contrasty color version of this and similar images. This session was photographed with a Nikon D850 and a 70-200 2.8 VRII zoom lens (my favorite, all-around glass in the bag. My favorite headshot lens is the 105mm 1.4). The exposure for this image was f/5.6 at 1/200th and ISO 100.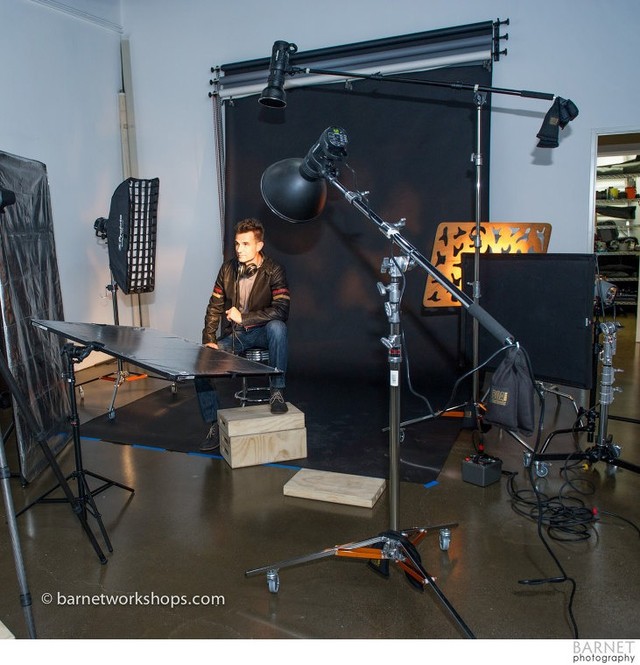 The image below was done with a slightly different set up and very different results. We wanted a range of looks out of this session. It's important to provide clients with different looks, especially if they're doing wardrobe changes. This image is softer and the "look" without the leather jacket, is more friendly and casual.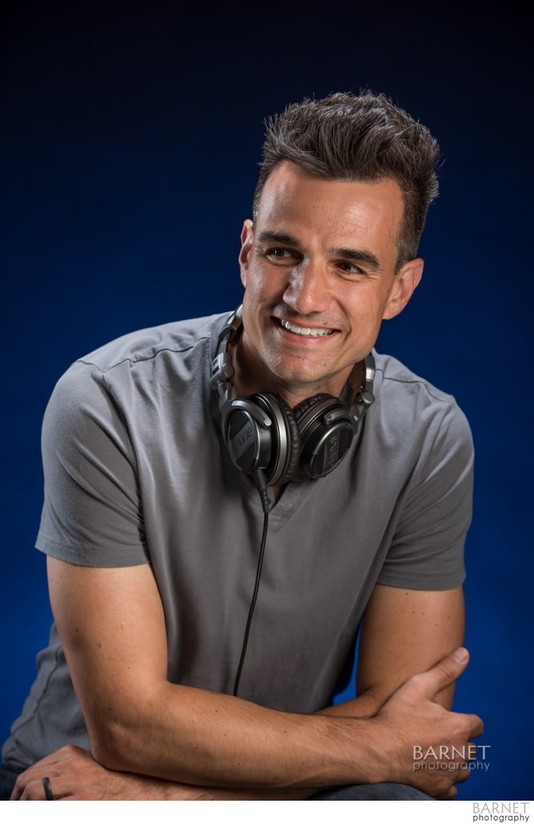 For this second image we traded the Profoto Magnum reflector for a Mola Demi off-white, beauty dish with a white grid, on the Profoto D1 500w. The beauty dish gives us a softer light than the Magnum reflector but more directional and focused than a soft box would provide. Working with reflectors, as opposed to soft boxes, requires more precise placement of the lights because the "sweet" spots are smaller and the light is more focused. The background light through the gobo was traded for another B1 with no light modifier and a blue gel held in place with a rubber band (cheap, low tech solution). The background light, placed behind the subject and aimed downwards, gives us a gradated blue background that can be easily controlled by the angle, intensity of the light and amount of color. The 2'x3′ strip box with egg crate remains in the same place. The silver reflector is also used for this image. Reflectors are very helpful in controlling the mood of the image.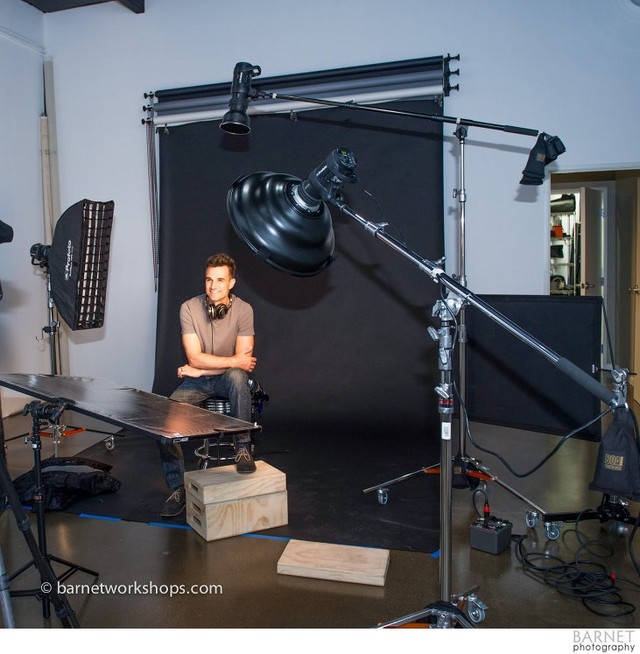 About the Profoto B1 and D1 monoblocks:
We used to use Profoto D1 and B1 self contained heads for all our studio and location portraits. Unlike working with a pack and heads, the power from self contained heads can be adjusted individually very quickly with a wider range of power choices. We would use the AC powered D1's for the main light because it has a stronger modeling light that can be set at full power without having to worry about draining a battery. It also comes in 1000w so we have plenty of power even for large groups lit with a 4'x6' soft box. The battery powered 500w B1's work seamlessly with the D1's and all can be controlled from the camera, and triggered by the Air Remote. This comes in very handy when trying to change the output from the hair light on a high boom. I like to use battery powered units when a power cord might be in the way, on location or when I may be moving a particular head substantially.
After closing our studio in Orange County, CA and working almost exclusively on location, except for product photography, we switched from Profoto to the GODOX system. Unfortunately, in my opinion, Profoto just got crazy expensive, including repairs...
Profoto is certainly a leader in our industry, always coming out with breakthrough advances and raising the bar for other manufacturers to follow. One of the ways Profoto became so popular was the genius concept of making their gear very available to rental houses, so we got "hooked" on Profoto. In addition to being a great product, they're very well built to take the beatings of travel, less than careful assistants, and hard use. They also pioneered the remote triggering integration.
Then came GODOX... This is an ever growing line of lighting gear made in China, with a wide variety of studio and location flash gear as well as continuous lighting for film makers. As with other Chinese made products, many GODOX units resembles leader industry Profoto very closely, but, again in my opinion, with more flexibility and at a FRACTION OF THE PRICE OF PROFOTO! Also in my opinion, after examining some of the gear, especially battery chargers, I think at least some Profoto gear is made in China... I could be wrong of course... What do I know...
GODOX wisely chose to accept modifiers via the well established and proven BOWEN mounting system instead of a proprietary system like Profoto, almost every flash modifier in the world can be purchased with a BOWEN mount, and their small reflectors take the very common 7" grids. So you can find accessories easily with more choices at lower prices.
The build quality of GODOX is not at par with Profoto so it pays to be a little more careful when using it and I don't think it would stand up to rental house abuse well as Profoto. BUT... GODOX comes with 1 year warranty and you can buy a new GODOX unit for less that the cost of repairing a similar Profoto flash unit.
For instance, GODOX doesn't make AC AND a DC self contained units. Larger units (400w and up) are battery operated but can be fitted with a corded converter, making them AC/DC at a very reasonable price. I had several Profoto units break on me, but the only GODOX that has failed was one that went for a swim in the Pacific Ocean during an engagement session.
If you have unlimited budget, Profoto is a good way to go, bit if not, I would recommend GODOX, especially if you're starting out and are not yet married to a particular lighting system.
Enough rabbit holing on flash gear for now, but if you have any questions, feel free to reach out. Geeking out on photo gear is one of my favorite pastimes... ;-)