Press Printed Cards
What is a Press Printed Product?
"Press printed products" are basically images, copy, design elements, etc. that have been printed on a printing press, or ink printer, rather than photographic paper in a "dark room" type process. A variety of paper stock can be used to add another level of customization to the product. This process is as archival as photo paper, or more. The process, equipment and papers used by photo labs that make these products are far superior than those used to print magazines, high volume greeting cards, advertising booklets, etc. These are short runs, highly accurate in color balance and density.
If you are considering having us create custom Holiday or other cards, or sign-in albums, don't hesitate to call us or email.


Holiday Cards: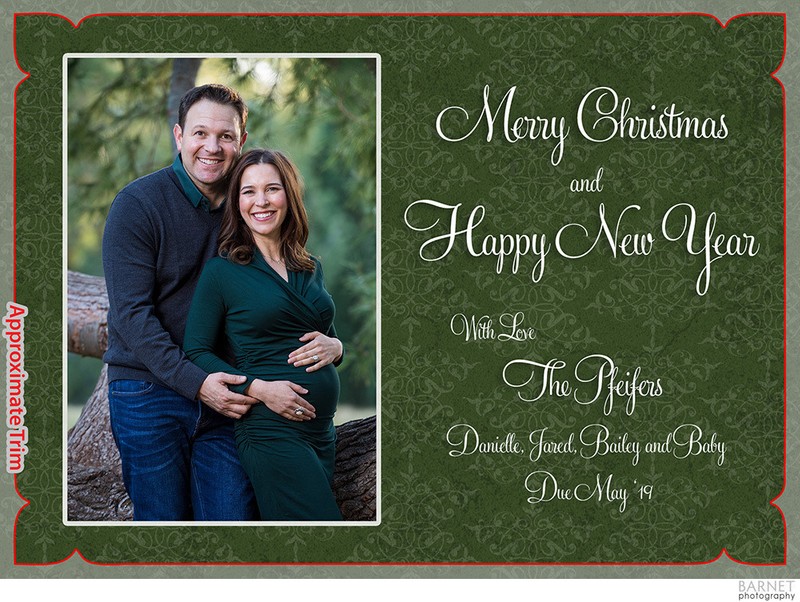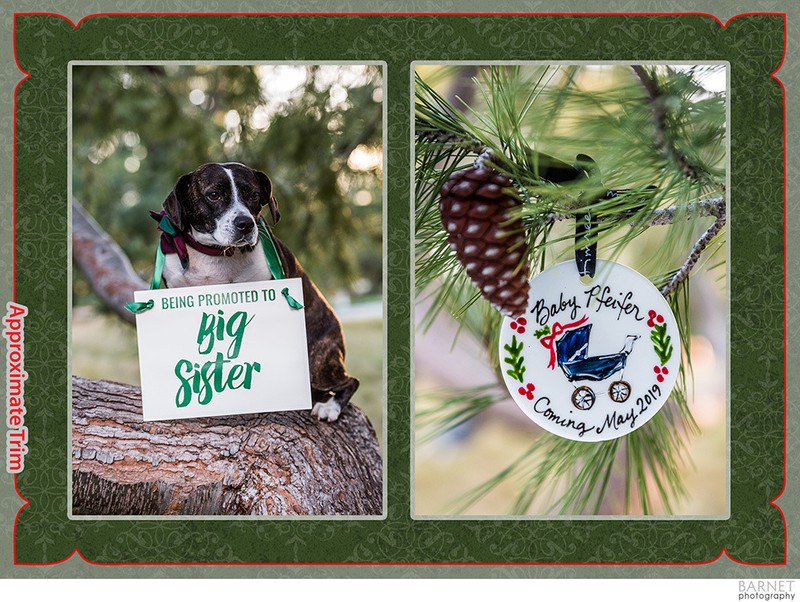 What is more fun to receive from your family and friends around the Holidays: A nice Holiday card with a safe, generic, all purpose message, purchased in a box with many others like it, or a beautiful, one-of-a-kind, custom-printed card with professional, retouched, photographs of your friend or family members? Which one will you throw away when the Holidays ornaments come down, and which will you save, maybe even add to the family photo album?
If you take the time and effort to mail Holiday cards, why not choose the one that will put the biggest smiles on the recipient's faces?
One of our specialties is designing and producing custom, press printed, Holiday cards, also engagement and baby announcements, save-the-dates and thank you cards.
We start with one or more images from a family portrait session, a wedding, engagement session, etc. Many of our Clients schedule their portrait sessions with enough time to have Holiday cards made, or use photos from an event we photographed for them during the year, as the centerpiece of their Holiday cards.
Our press-printed Cards are completely custom designed and printed for you. They can be 4"x8" or 5"x7" flat, or 5x7 folded (the most popular for Holiday cards with the most room for images and messages). We also offer other sizes like tri-folds that offer more space for photos and copy.
You tell us what image(s) you want to use, the overall style you would like that reflects your own style and personality, what you want the message to be and the type of font and what colors you favor. You can even send us samples you like from Pinterest. We will then create your card and email it to you for approval. Once you love it, we have your cards printed by our professional lab on the type of card stock you choose. They come with white envelopes that feature your return address printed on the back flap or other optional colors and liners to help personalize your card. You can address them by hand, or use printed address labels.
Our press printed cards are a bit more pricey than designing your card online from a limited number of templates, inexpensive printing and no retouching, but surprisingly less expensive than individual cards you could purchase at a card store, and we do all the design work.
Save the Date Cards: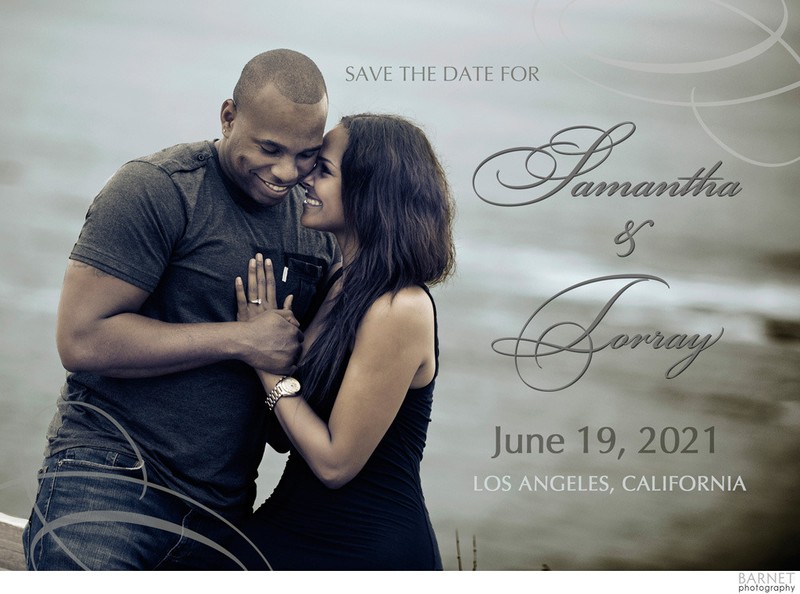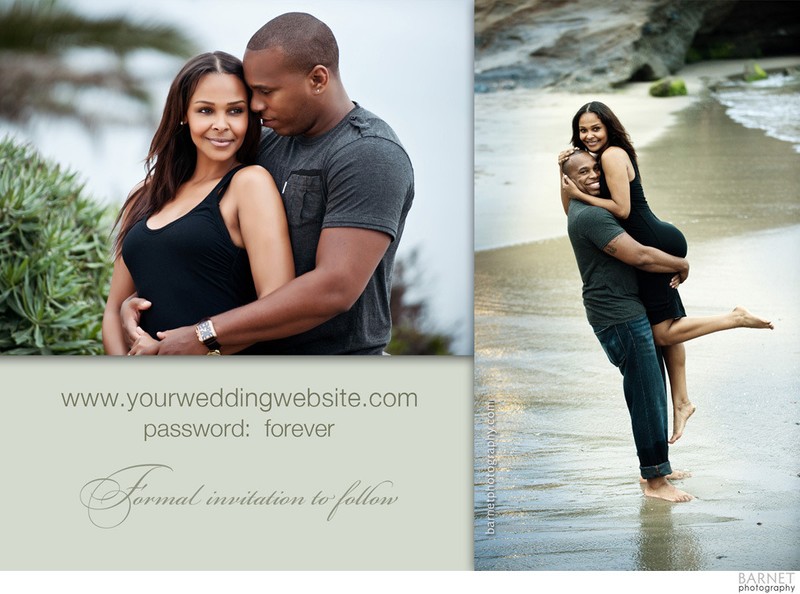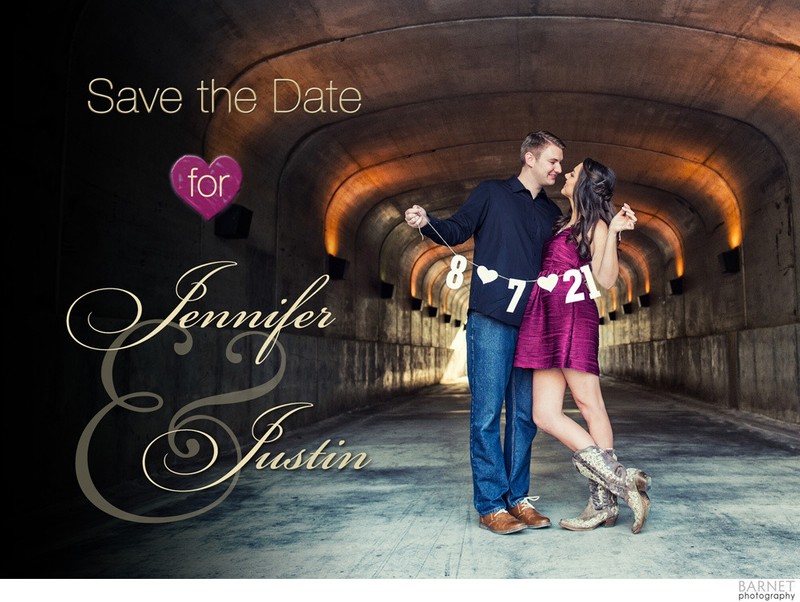 One of the most popular products our wedding couples purchase from their environmental engagement session is their Save-the-Date cards, usually with 2 or more images from the session. Guest sign-in albums are also very popular. Etiquette suggests that the cards should be mailed 6 months before the wedding, with the formal invitation to follow. We often include the wedding website the bride and groom have created so their guests can find out where they are registered, where to stay for guests that are traveling, etc.
Like with all our press printed products, our Save-the-Date cards are completely custom designed and printed; using the image or images chosen by you, with our help if requested. We welcome ideas and direction so that once approved, the final product reflects the your love and anticipation for the wedding day, which will no doubt get your guests excited about attending the wedding.
We love photographing engagement sessions! They give us the opportunity to get to know you better before the Big Day. You can also test your makeup to see if you want to make any changes for the wedding day, usually using the same makeup artist.
When we arrive at the wedding of a couple we have photographed before, there is a faster and better connection than if we had not worked with them, or even met them before the wedding, as sometimes is the case.
Custom Designed Sign-in-Albums


As I mentioned earlier, Guest sign-in albums are very popular with our wedding clients that choose to do an engagement session. They're so much nicer than a store bought book with lined pages for signatures. We love designing these albums, and we "shoot for the album" during engagement sessions. This means that as we are making great photos of the future Bride and Groom together, and a few individual ones, we also make images that will tell a story of a day at the beach, park, downtown, etc. We make horizontal images with lots of "negative space" that will make beautiful 2 page spreads, series of images of the couple walking, laughing and enjoying each other with lots of interaction, etc. All these images look great alone, but they also work in a book format that tells a mini-story.
We like to deliver the Guest sign-in albums the week before the wedding, so scheduling the session with plenty of time for that is key. This way you can bring the book to the rehearsal dinner so the family and bridal party can have plenty of room to write their wishes and sign the album before the busy wedding day. This also lets the guests see an already signed album on the day of the wedding and they're not afraid to be the first to write on it. Sometimes couples ask a member of the wedding party to go around the tables with the sign-in album to make sure everyone has an opportunity to sign it.
Usually, sign-in albums are priced much lower than wedding albums. They have less pages, are made of flexible paper without a substrate in between the pages, and feature a photo cover. We have also produced this style of book as inexpensive, duplicate wedding albums to be used as parent albums.
A sign-in album makes a great companion to the more formal wedding album on the newlyweds coffee table.


Thank You cards, How Soon After the Wedding Should You Send Them?
These should be mailed about 2 weeks after receiving gifts before the wedding, and up to 3 months for gifts received on wedding day. Most couples send all the Thank You cards together, after the wedding; preferably before the 3 months etiquette allows. Many of our couples pre-purchase their Thank You cards so that during the honeymoon we can create a preliminary design for them, using one or two images we think our couple will love. Of course, you are more than welcome to make changes when you see our design, but they'e usually minimal.
After returning from the Honeymoon, you will be busy getting back to reality: the job, possibly moving, and all the other things that come with starting a new married life. Our newlyweds really appreciate us making a fabulous card for them to thank their guests for their gifts and for attending the wedding.