BEACH PHOTO SESSION CHALLENGES
We get lots of questions about shooting in challenging environments, especially at the beach, so I thought I'd gather a few beach images and talk about how we have fun in the sun with our Clients. So grab the SPF 50, your comfy flip-flops and let's go shooting!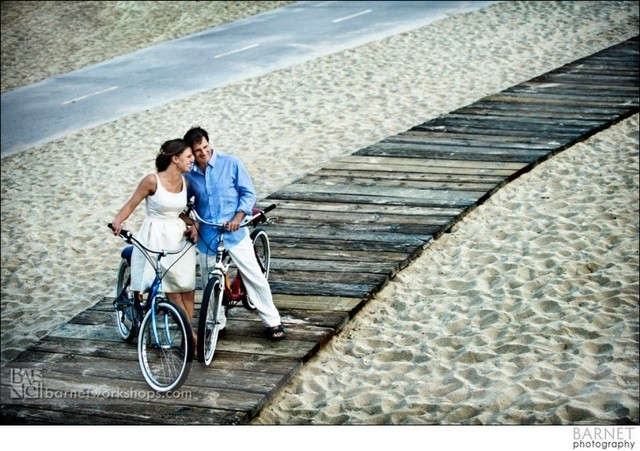 Nikon D5 @ 640 ISO 70-200 2.8 VRII zoom @ 70mm f 3.2 @ 1/320 sec. 0 exp. comp. No flash.
Many photographers would rather shoot a portrait or engagement session anywhere else than at the beach. If that's because you're not comfortable with the challenges of a beach environment, it doesn't have to be. Most photographers in the middle of the country would give their 85mm 1.2 (I prefer the Nikon 105 1.4 myself) for a beach location nearby. In fact, on the East coast you have to get up pretty early to get dramatic light with the sun over the water. Only on the West Coast can you get together with your clients an hour or so before sunset and get killer stuff… All year round!!!
Still, the beach offers some challenges... The first one being people... How dare they get in my shot! There are several solutions: Get your subjects near or in the water, that way there will be less people between you and them. This also allows you to shoot down on them, giving you a better background, especially if you can be on a rock, steps, a lifeguard tower, etc. Sometimes beach goers can actually make great backgrounds. Like a surfer reading the waves before going in the water. Another reason to work very close to the water is the cool reflections off the wet sand.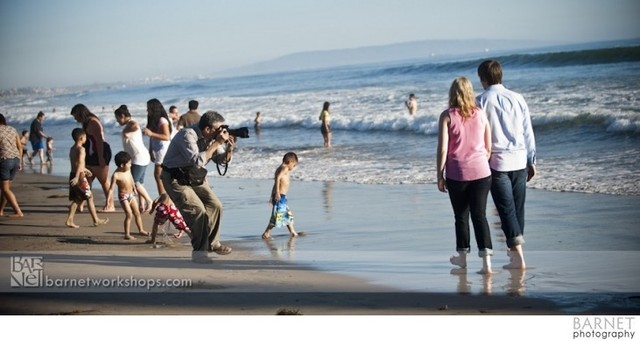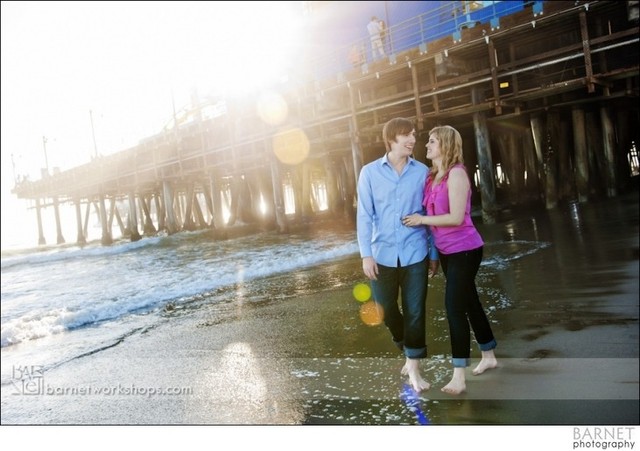 Nikon D5 @ 320 ISO 24-70 2.8 zoom @ 29 mm f 5.0 @ 1/320 sec. + 1.3 exp. comp. No flash. Stopped down some to get better lens flare.
Waves... They look great, but they can get you wet... If you have an assistant, have them look out for you and warn you before you get hit. As you look through your viewfinder and concentrate on your subject you'll loose track of time and place, but know that your gear doesn't like salt water. Exposure to sea water and even moist sea spray is bad for our expensive stuff. You can use one of those rain bags you get at the camera store. I just try to be careful and give the gear a good cleaning when I get home.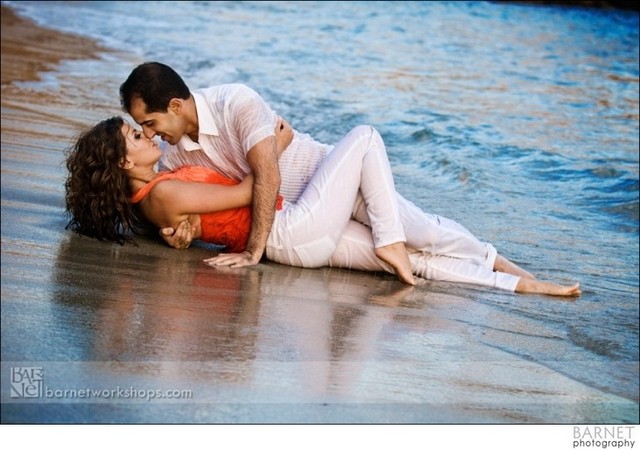 Nikon D500 @ 800 ISO 70-200 2.8 VRII zoom @ 105 mm f 3.5 @ 1/250 sec. + .3 exp. comp. No flash.
This is one of our favorite couples of all time, Mariam and Afshin. We had so much fun together! One of their 3 engagement sessions was at the beach, and they went all out! This image was right at the golden hour. Just as the sun hits the horizon. With the D500's crop factor, I didn't want to go too long and risk camera movement, so I held at 105 . The 800 ISO was not a problem. The 30″x50″ canvas wrap of this image looks great!. Still, my favorite image of this session is this next one. You got to love this guy!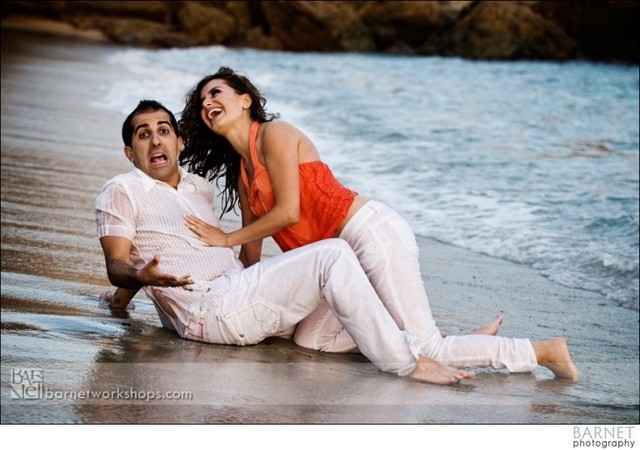 Here are a few other images from Mariam and Afshin's beach session…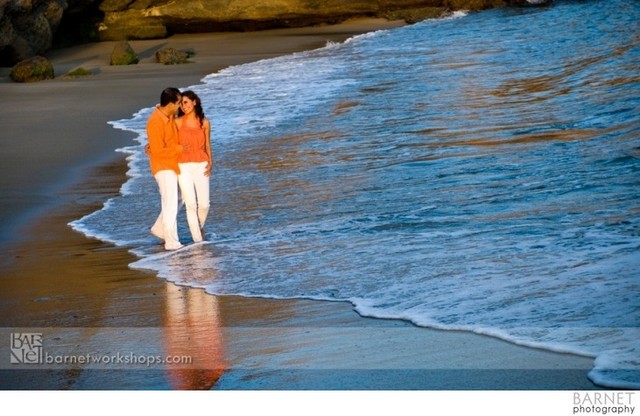 Nikon D500 @ 320 ISO 24-70 2.8 zoom @ 62 mm f 4 @ 1/250 sec. 0 exp. comp. No flash.
This image shows the benefits of shooting from a high angle. I climbed on a big rock for this one. By shooting down on your subject, your background can be the water and sand. For the most part, high and low angles are more interesting and dramatic than eye level. The sun is about to set and the very warm light looks great. The reflection in the wet sand is also pretty cool!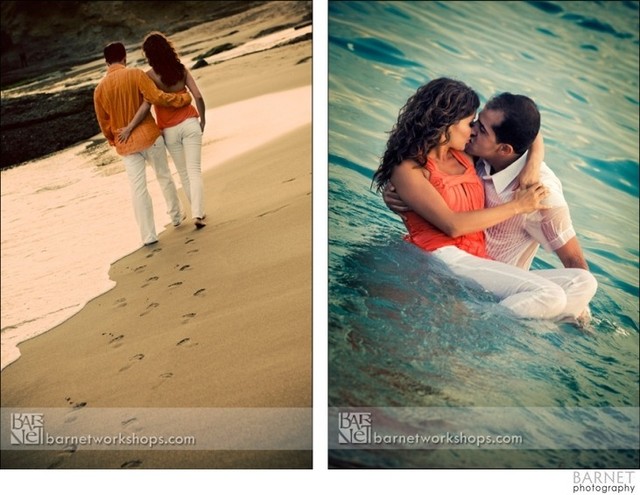 Left: Nikon D500 @ 320 ISO 24-70 2.8 zoom @ 60 mm f 3.5 @ 1/250 sec. +0.67 exp. comp. No flash. Back light is alright! I like the rim light on this one. With back light you'll usually need to override the camera meter if you don't want an underexposed or silhouetted subject. How much to overexpose? An incident meter helps, but who has the time?! Experience and chimping works just fine...
Right: Nikon D500 @ 640 ISO 70-200 2.8 VRII zoom @ 155 mm f 4 @ 1/125 sec. +0.33 exp. comp. No flash. Nice low warm light. The D500 crop factor helped get the most out of the 70-200 here. The subjects did the rest. These two didn't mind the cold water. They were in the moment!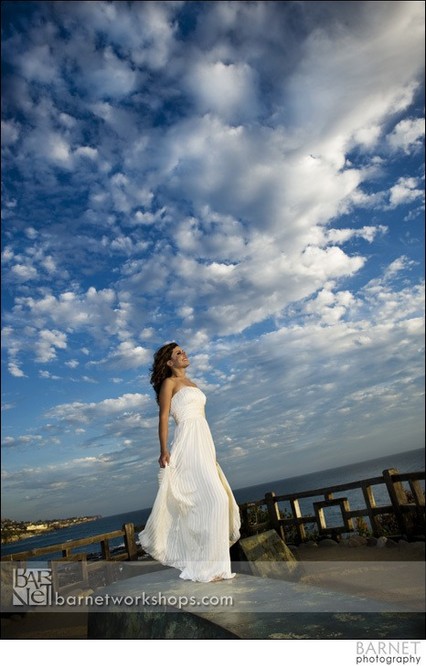 It's a good idea to choose a beach location with more than just beach. If there are interesting areas before you get to the sand, you'll add more "range" to your session. Here the low sun is doing most of the work, and the sky that day was great! This is what we call "PR" clouds, great for architectural assignments! The sun light here is very warm, so a nice dose of on-camera flash helped open the shadow area and cool off the skin tone. Your on-camera flash is a very powerful tool when used properly. The secret is to not make your image "look flashed". It was a little windy here, we were lucky that the light and the wind were coming from the same direction.
Wind can be the invisible enemy. I'd rather have light rain than strong wind, especially if my subjects have long hair or wear contact lenses. Try to work with it. Use it to add drama. Have your subject face the wind if possible (background can be an issue here), use a big rock or structure to block the wind, use a reflector to shield your subject in extreme close ups.
Don't drop your gear... Changing lenses is not a good idea, especially if it's windy. We bring 2 bodies to beach sessions, one with a 24-70 2.8 and the other with a 70-200 VR 2.8. We don't change lenses while on the beach. We also use 2 64 gig cards in each camera (the 2nd for backup). I bring a small bag with an on-camera flash, an extra camera battery, an extra set of batteries for the flash and extra CF cards. We also bring a 42" Lite Disk (reflector), white on one side and silver on the other and a translucent reflector. Anything bigger than the 42″ is hard to handle in a windy environment. You can use a reflector in soooo many ways! I even use the zipper cover to kneel and sit on.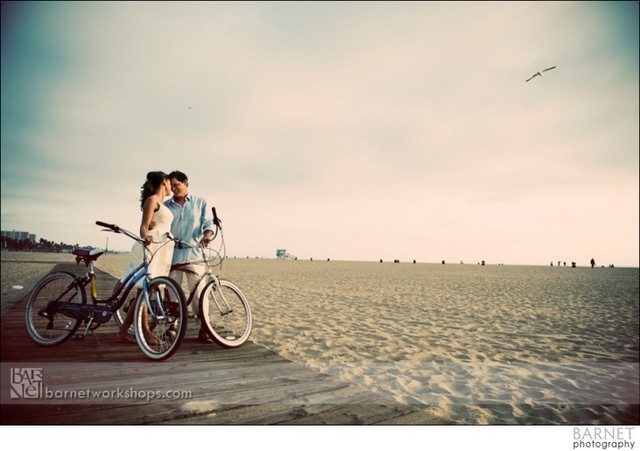 Nikon D5 @ 500 ISO 24-70 2.8 zoom @ 24 mm f 3.5 @ 1/1250 sec. + 1 exp. comp. No flash.
This was shot at a very low angle, to accentuate the sky. Mirta shot this just before I shot the first image of this post. Mirta stayed with our subjects while I went on the Pier to shoot down and use the boardwalk as a strong leading line. Subject pose is similar in both images, but with very different results.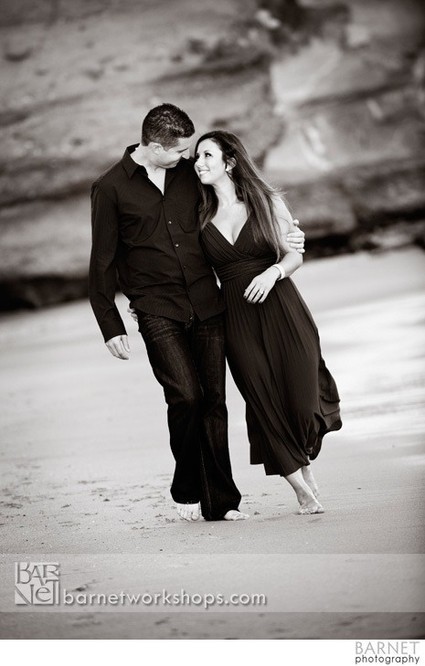 Nikon D5 @ 640 ISO 70-200 2.8 VRII zoom @ 180mm f 3.5 @ 1/200 sec. -0.33 exp. comp. No flash.
Another example of low angle and shallow depth of field. Clean and / or out of focus backgrounds help "separate" your subject from the background. With dark clothing, the camera's meter wants to let more light in. Camera meters are very diplomatic, they're designed to make everything look evenish (18% gray), they don't like black or white. With light skin subjects in dark clothing, you need to "compensate" for the meter's judgement. Otherwise, the skin tones would have been overexposed. This can be fixed (to a point) in post, and the overexposed blacks are not too much of a problem, but with low light I needed all the speed I could get to avoid subject or camera movement while keeping the ISO as low as possible. The D5 is a great low light camera!
Location, location... What beach to choose... "My fiancé proposed to me next to the trash dumpster at Crap Beach behind the big condo complex with all the beach towels on the railings… It was sooo romantic"… Well, then you don't have a choice. Suck it up and do your best. Shoot shallow and hope the dumpster color goes with their outfits. As the "Pro" you should choose the location if you can, normally we tell our Clients what beach works best. You want to go somewhere with "range", an area that not only offers sand, water and sky, but maybe some cool rock formations, perhaps small ones where your subjects can sit, or you can stand to shoot down on them and get great out-of-focus water backgrounds, instead of white skies. It also helps if there are cool wooden steps to reach the beach, or empty lifeguard towers. Bike paths are also great and your clients can bring or rent bicycles. Beaches with piers are the best! The only problem there is people, especially if you go on the weekend. You can always "work" with the crowd. If there are nice shops and streets next to the beach, even better... You can get a little surf and turf action going on. The more variety you shoot the more images your Client will choose. After the beach part they can get an ice cream, walk along the sidewalk or do a little necking under a street lamp. This is where a fast lens comes in handy.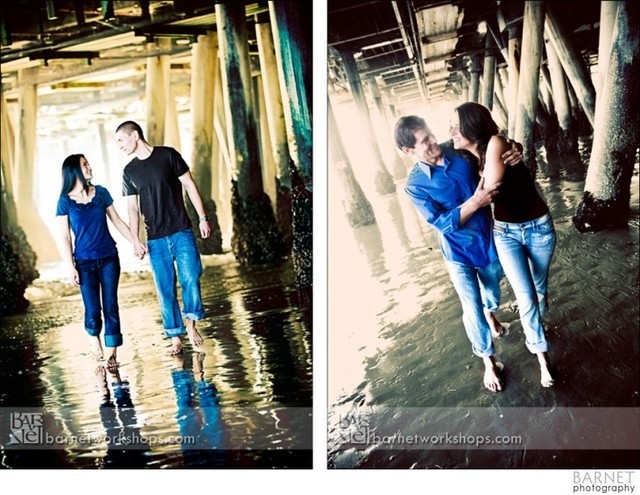 Left: Nikon D5 @ 1250 ISO 70-200 2.8 VRII zoom @ 105 mm f 3.2 @ 1/250 sec. + 1.67 exp. comp. No flash.
Right: Nikon D5 @ 800 ISO 24-70 2.8 VRII zoom @ 27 mm f 3.5 @ 1/250 sec. + 1.67 exp. comp. No flash.
Who needs to go on the pier when you can go under! These two images were made about 4 days apart under the Santa Monica Pier. The light was great both times, but totally different. Mirta worked the images very differently in post as well. All our subjects here were great! They wore the perfect outfits, had great energy and were very playful. What more could you ask for? Back light in this location is very tricky, and changes constantly as your subjects move. Here I used continuous focus as I moved with the subjects. Very easy to get hit by a wave here. Mirta's usually my lookout when I'm shooting and vice versa. Especially when I'm walking backwards.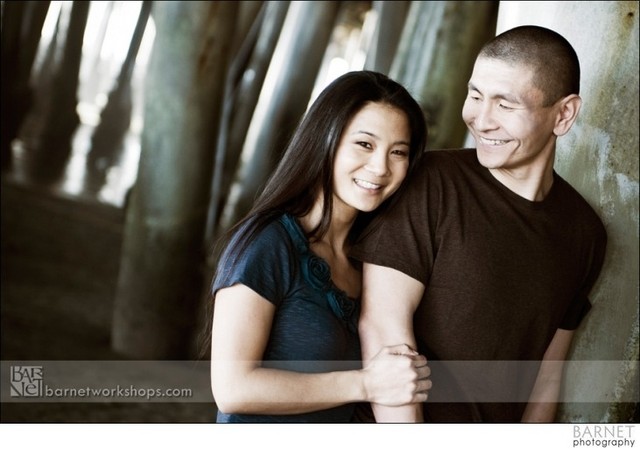 Nikon D5 @ 800 ISO 24-70 2.8 VR zoom @ 70 mm f 2.8 @ 1/200 sec. – 0.3 exp. comp. No flash.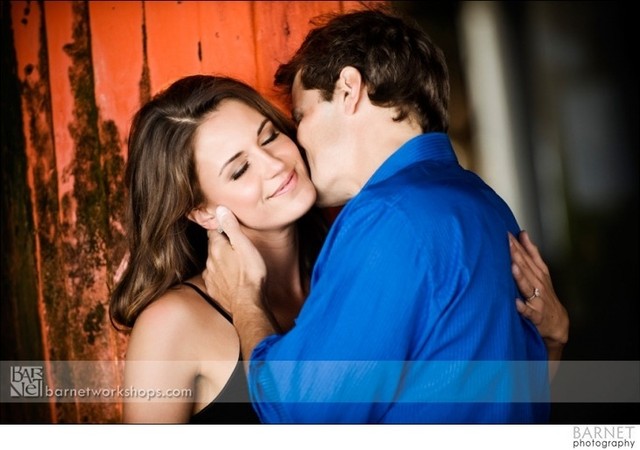 Nikon D3 @ 800 ISO 70-200 2.8 VRII zoom @ 180 mm f 2.8 @ 1/160 sec. 0 exp. comp. No flash.
"What should we wear??!!"... If you're lucky, what you suggested they wear. Although, sadly, many times your Clients hear you during the planning session, but don't listen. Hopefully they'll bring "a few things" to change into. You really have to tell them what to wear and what not to wear before the session. Once at the beach it's too late.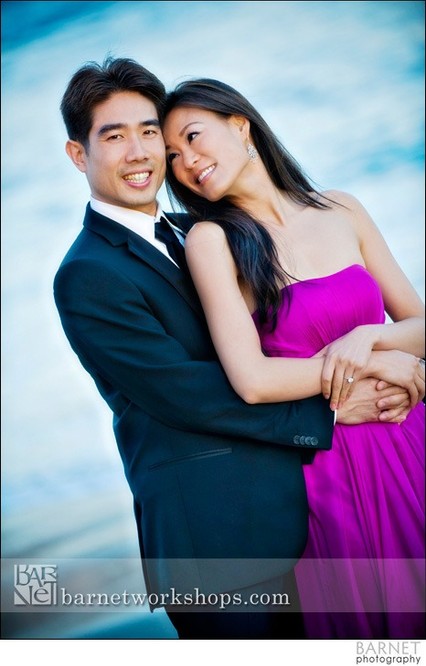 After a wedding Ceremony, just before we left for the beach, Mirta suggested I take one of the parasols with me. As soon as she said it, I thought of using it this way, but I didn't know if it was sheer enough or the sun strong enough for this shot. I got lucky, it all worked out. I used +1 exposure compensation to get the detail on the gown and texture on the backlit sand. Another way could have been to underexpose the image for a stronger silhouette. When looking up the info on this image, I noticed I shot it @ 640 ISO with a 1/2500 sec. shutter speed. High ISO is not a problem for the D5, and the large canvas wrap looks great, but in hindsight I could have lowered the ISO and still have a good shutter speed. Not a big deal, but it goes to show that when working very fast under pressure one can miss some things. The more you work under these conditions the better you get at it. We presented a "same day edit" show at this wedding... After I got back from the beach, I did a little room coverage (Mirta had done most of it), then for the first hour of the reception, Mirta edited our images from the very start of the day until the room shots, including the beach coverage. Then after enhancing the finalists, she made a slide show and ran it looped on a large LED monitor near the bar. This service is labor intensive, and we have to bring a lap top and a monitor, but it's a big hit with the wedding guests.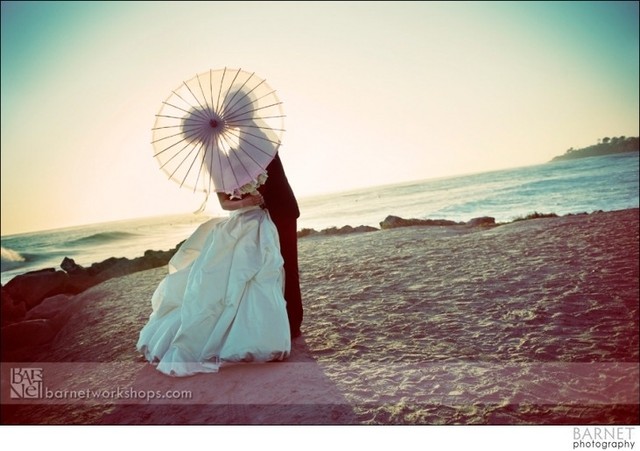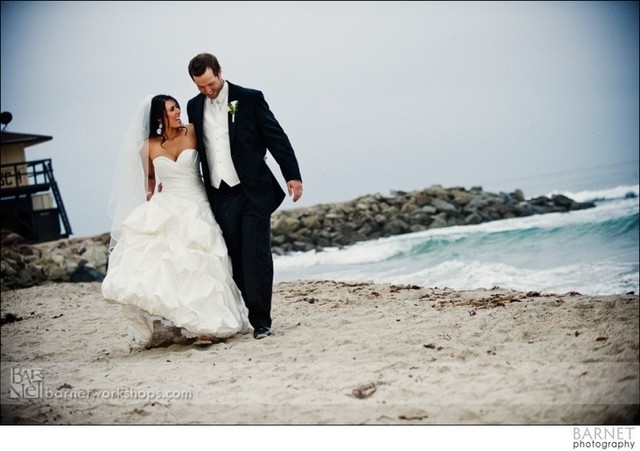 Nikon D5 @ 1250 ISO, 70-200 2.8 VRII zoom @ 80 mm, f 3.2 @ 1/200 sec. 0 exp. comp. Flash @ -2.
The two images above were at the Ritz Carlton in Orange County, CA. After the ceremony, we got in golf carts and headed to the beach. Sometimes the whole wedding party comes along! This can be challenging, because there's very limited time before we have to head back to the reception. At times like this, I go to the beach with minimal gear and Mirta starts shooting the ballroom with our assistant.
Exposure… I shoot mainly on aperture preferred, with lots and lots of exposure compensation, both ways. Mirta's a hard core Manual shooter, probably because she's in charge of post production. I like more flexibility in fast changing light. Especially backlight, as in walking subjects under a pier. And flash is NOT a 4 letter word… When used correctly to fill in a little, with color gels, bounced off walls, etc., flash is a great tool. Sun flare is fun to play with. Take off your lens shade (it makes a cool bracelet) then stop down some and overexpose to be in the ball park. Don't be afraid to crank up the ISO, today's gear can take it... A good rule of thumb when shooting in hard sunlight is: If your subject is backlit, you'll have to overexpose, and /or fill. Your skies / backgrounds will be overexposed, but you'll have non-squinting clean faces. If your subjects are facing the light (easier at sunset), you'll get great skies because the same light hitting your subject is lighting the background. Don't get your shadow in the photo. Finally, silhouettes are popular with clients but just a few go a long way.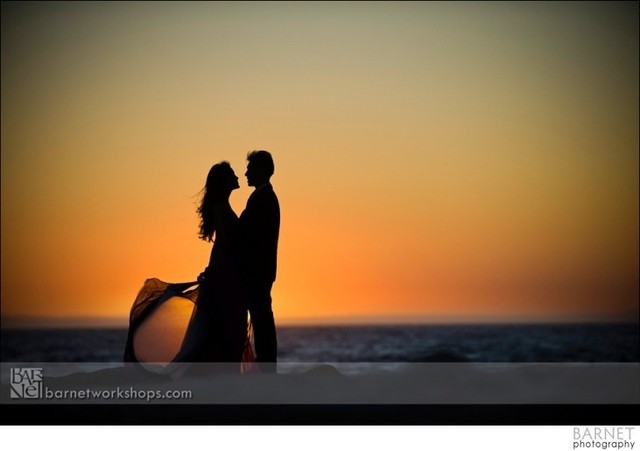 Nikon D5 @ 640 ISO 70-200 2.8 VRII zoom @ 155 mm f 3.2 @ 1/2500 sec. +0.67 exp. comp. No flash.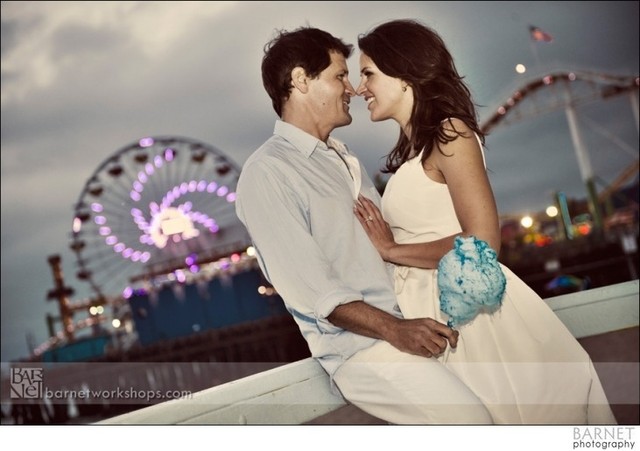 Nikon D5 @ 640 ISO 24-70 2.8 VR zoom @ 60 mm f 3.2 @ 1/125 sec. – 1.33 exp. comp. Flash bounced off a wall on right @ -1.33.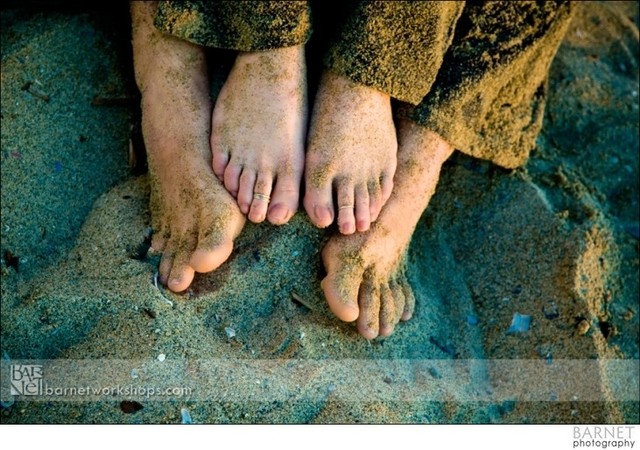 Nikon D500 @ 400 ISO 17-55 2.8 zoom @ 55 mm f 4.5 @ 1/250 sec. 0 exp. comp. No flash.
Details are important. Especially if a Guest-sign-in book is part of the plan. Not only close-ups of your subjects, but also pretty pictures of beach stuff… Rocks, sunsets, dramatic skies, anything that will help you tell the story of the day…
Finally… A word about Post Production… No matter what your shooting style is, one thing you should learn to do as well as possible, in my humble opinion, is image enhancement and retouching. This is a very important part of your craft. Without exception, all our Clients want to look great. If they're confident you can do that for them, by looking at your work, you'll have a much better chance at winning them over. Often, for that reason alone, we have been chosen over less expensive photographers. If you're not good with Photoshop and don't have the time to learn it, outsource that part of your workflow. Whether you do it yourself or have it done, you owe your Clients and yourself the best quality images possible. Creating an "image" for your business is important, but your "images" are more important. I wish I could take credit for this last statement, but I'm paraphrasing Cliff Maunter, one of the best wedding photographers anywhere whose work and integrity I respect.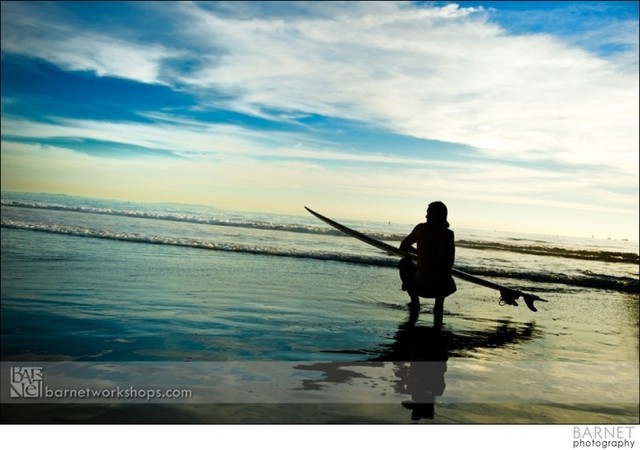 Nikon D5 @ 400 ISO 24-70 2.8 VR zoom @ 29 mm f 3.5 @ 1/4000 sec. + 0.67 exp. comp. No flash.
This is a good example of a "detail shot" you can grab as you're doing an e-session. Images like this come in handy when designing guest sign-in books. A surfer reading the waves before going in the water. He was there for about 3 or 4 minutes, but for about 10 seconds no one walked in front of him. I took a couple of shots with the 24-70 mm to get my exposure dialed in and waited for people to walk past him, hoping he wouldn't get up before I got my shot. In the mean time I was shooting my couple with the 70-200 mm. When I saw he was alone I grabbed my shot. He got up and went in the water right after that. If I would have waited to HAVE the shot before I got ready for it, I would have missed it. I had to overexpose a little to keep the reflection on the wet sand. It was getting dark, so I was still able to keep the silhouette effect and detail in the sky. Mirta darkened the sky and enhanced the image in post.
Beach engagement sessions, or family portraits for that matter, used to be a few photos facing the setting sun at "golden light". Now they're like an "afternoon-in-the-life" sessions, with lots of variety. We often produce guest sign-in albums from our engagement sessions. Don't forget a few individuals, activity, emotion, etc. So go out there and have a great time… Get a few KTLA shots first… (Keep The Lawyers Away) and then play... If you're out of focus, it's art, if you're under exposed, it will make a fantastic grainy B&W… it's all good. Like everything, you'll get better the more you do it. One thing's for sure, unlike that old brick alley downtown you like so much, the beach is never the same. Even at the same spot and time the next day. The beach is a timeless living thing where you can create dramatic photographs that will be treasured by your Clients for generations to come.