About Barnet Photography
Barnet Photography, based in Los Angeles, California, is truly a full service studio. Not only because we offer unsurpassed personal customer service, but also because we specialize in many types of photography. We are referred by top venues in Los Angeles and Orange County for corporate events and weddings. We may be hired to photograph a corporate event or product assignment and later be asked to photograph that client's wedding. We believe in creating lifelong clients; most of our family portraits are former commercial or wedding clients.
We provide manufacturing businesses with product photography and work with large multinational corporations, photographing conferences and sales meetings held at top venues in Los Angeles, Orange County and San Diego County.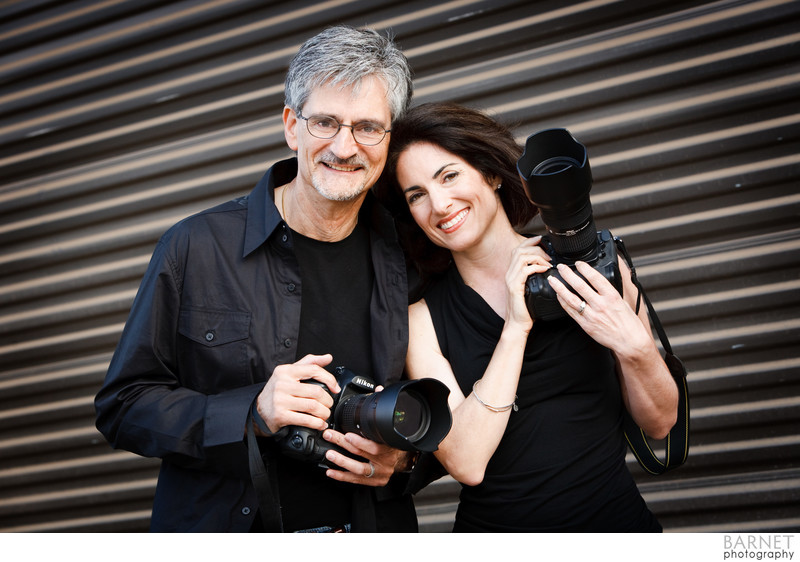 About Joe and Mirta Barnet
Joe has photographed weddings and other assignments locally and abroad for more than 20 years. His formal training and experience in photojournalism, lighting and traditional portraiture earn him high praise and enthusiastic referrals. The Barnets' work has been featured in numerous national publications.
Joe has extensive experience with corporate photography starting with his work in the Aerospace industry over 10 years as a Rockwell International Senior Corporate Photographer, assigned to the B1-B and Space Shuttle programs. His work in sports photography with the Angels' Baseball Organization and the Orange County Register, and his involvement in Motorsports, starting with Formula 1 Racing and currently the Porsche racing community, have allowed Barnet Photography to work in many different fields and service a wide variety of clients.
"Someone, wiser than I, said that if you found something you loved to do, you wouldn't work a day in your life. I'm not sure about the not working a day in your life part, but I can honestly say that we love what we do. Taking care of our clients' photographic needs is truly a labor of love for Mirta and I. Whether we're photographing a 3 day Indian wedding, creating eye catching images of small products in the studio or walking around a racetrack all weekend, on a hot summer, day carrying a ton of gear. I absolutely love it!" -- Joe Barnet
Mirta's background is in fine art and graphic design. She is a second photographer on every assignment and in charge of post production; that includes image retouching and designing each couple's wedding album.
Mirta's background, before becoming a full time photographer was in marketing and graphic design. This allows Barnet Photography to not only produce top quality images for our clients, but also help our small business clients with design ideas for brochures, online advertising and other projects that include photography. We also custom design Holiday cards for our clients.
"We love photographing people and making them look great! Especially during some of the most important days of their lives. Our wedding clients hire us to see their wedding day through our eyes. It is our privilege to ensure that every meaningful detail is photographed in a relaxed, unobtrusive, artful way. It's also our job to create a masterpiece album, custom designed by us and handcrafted especially for each couple. It's very heartwarming to know that the photographs we make for our clients will become treasured family heirlooms for generations to come. We're very fortunate to make our living doing something we love." -- Mirta Barnet